(Adam Carter a.k.a Rupert Penry-Jones)

If you haven't watched
MI-5
, you really should. Marc and I have been working our way through this superb BBC series on Netflix, and just finished season 5. MI-5 is the UK's intelligence organization and this show is reminiscent of Alias, only --
I
think -- more intelligent and with a more realistic feel. The actors are great, and it's one of those rare shows that seems to only get better over time. Every episode is like watching a good movie.
Highly
recommended.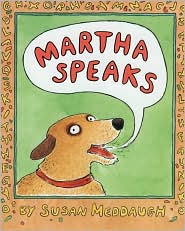 There is a whole series of books about Martha, a dog who learns to speak when she's eating alphabet soup and the letters go up to her brain instead of down to her stomach. I adore these clever books. I discovered them at the library and checked them out many times when Lucas was a little boy, and I just got them last week to read to Eva. She loves them, too!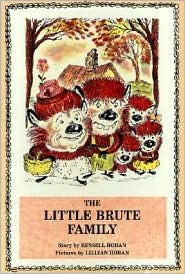 Eva picked up this little book while we were at the library. Judging by the cover, I would have conveniently left it in the stacks, had she not been so insistent. I noticed it was written by the same author as
Bedtime For Frances
, a favorite from my childhood, so I decided to give it a chance. We read it last night, and it's actually quite charming.
The little Brute family lives a dismal life, until...
"...one day Baby Brute found a little wandering lost good feeling in a field of daisies, and he caught it in his paw and put it in his tiny pocket."
Everything changed for him and for his family after that. The book's dedication is: "For Esmé, who carries little wandering good feelings in her tiny pocket." That image just made me smile.
I bought this peanut butter fudge ice cream at Target last week. Holy moly, this is good stuff. Very chocolatey ice cream with little slabs of peanut butter, and they don't skimp on the peanut butter. It reminds me of Umpqua chocolate peanut butter, for those of you Oregonians. But I might
possibly
like it even better (gasp!).
In checking their site for this photo, I discovered that they also have a sea salt pretzel caramel ice cream flavor. Be still, my heart.