I am taking a page out of Jill's book and will try to post here about all the books that I read in 2009.
The good thing about being sick was that I read 4 books in the last week and a half!
#1. The Star Garden

I read this one for January book club (which I could not attend, sniff). Another very enjoyable book about Sarah Prine. Nothing will quite measure up to These Is My Words for me, and I still miss Captain Jack Elliott, but this one was still a worthy addition to the series (and I preferred it to Sarah's Quilt).

Udell is a very good man, and at times I was impatient with Sarah's waffling over him. I could really relate to Sarah's yearning to be cared for instead of having to be so independent all the time. Still, I had to admit I probably would have a very hard time deciding to give up my freedom and marry again as well.

For some reason, I found myself thinking about technology a lot while reading this book. How convenient it would have been to have a cell phone to call for help from her sons when Maldonado's men were attacking at Udell's house! It's hard to imagine not having electricity and central heating when we consider it a hardship to be without internet or cell service...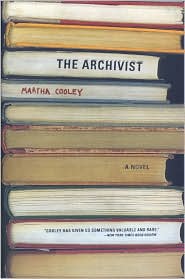 #2. The Archivist
Jill gave me this book some time ago, and I finally picked it up. Just seeing the cover on my bedside table gave me a little thrill.
An interesting read, though it risked being on the dull side of erudite at times. I enjoyed the parallels between the narrator (the archivist) and his wife and T.S. Eliot and

his

wife. All that the narrator's wife endured with her mental illness and institutionalization was very disheartening, she was so misunderstood. At least there was some small redemption in the end.

This one reminded me at times of A.S. Byatt's

Possession

.


#3. The Elegance of the Hedgehog
Marc gave me this book for Christmas, mostly because it has "hedgehog" in the title, an inside joke. Also because it was translated from French (though it doesn't read like a translation).
I didn't immediately like this book -- it seemed too self-aware for my taste, and sometimes repetitive. But gradually the characters grew on me. The main character is a concierge in Paris who is short, chubby, and unattractive. Although she is an extremely intelligent autodidact, she goes out of her way to keep up appearances and conform to what people expect her to be. I really ended up liking Renée, Paloma, Kakuro, and Manuela, and I wished I could have seen more of their interactions, it was simply a pleasure to see them going outside themselves. Now if only it didn't have that French ending! A very unsatisfactory ending for this American.
In addition, I learned some new words, which I always love:
avuncular
(adj.)
Of or having to do with an uncle.
Regarded as characteristic of an uncle, especially in benevolence or tolerance.
equipoise
(n.)
Equality in distribution, as of weight, relationship, or emotional forces; equilibrium.
A counterpoise; a counterbalance.
consonanc
e (n.)
Agreement; harmony; accord.

Close correspondence of sounds.
The repetition of consonants or of a consonant pattern, especially at the ends of words, as in blank and think or strong and string.

Music A simultaneous combination of sounds not requiring resolution to another combination of sounds for finality of effect and conventionally regarded as harmonious or pleasing (the opposite of dissonance).

(I suspected as much, but wasn't sure.)
And, two favorite passages:
"... on the way home I thought: pity the poor in spirit who know neither the enchantment nor the beauty of language." (p. 160)
"I untie the string and tear the paper. It's a book, a fine edition bound in navy blue leather of a coarse texture that is very
wabi
. In Japanese
wabi
means 'an understated form of beauty, a quality of refinement masked by rustic simplicity.' I'm not really sure what this means but this binding is most definitely
wabi
." (p. 165)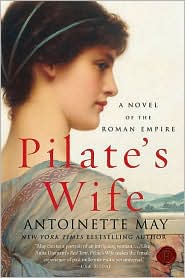 #4. Pilate's Wife
I would probably give this one something inbetween 3 and 4 stars. It was a very engrossing, quick read. I really enjoyed learning more about what it was like to be a woman in the time of Christ. Claudia was an interesting, passionate character, but she sure did make a lot of foolish, rash decisions.

She was prone to visions and dreams, which normally brought her great pain, as they quite often foretold the death of loved ones. After befriending Mary Magdalene, she foresaw the death of Christ and tried to dissuade Pilate from condemning him.

There is a decent amount of sex here, for those who are sensitive to that.
I'm sure I can't keep up this pace, but I'm off to a great start! Let me know if you have something I should add to my reading list for this year.