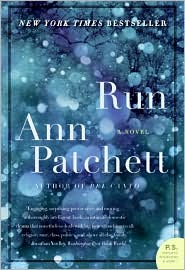 I just finished this book by Ann Patchett today. It's an interesting story that made me think about politics, race, class, religion, and family.
I quite enjoyed it, especially this passage:
"Bernadette would have been proud of the job Doyle had done with Teddy and Tip, but she never would have accepted his relationship with Sullivan. Whenever they were together, he could hear her, pressing him to show more kindness, pressing for sympathy. Even the wreck Sullivan had made of his life would not have dissuaded his mother from her love. At thirty-three he was still the baby she had held in her arms. That was one of the many things Doyle had found so admirable about his wife: her ability to look at their children and see them at every age.
She managed to hang on to every bit of love she had ever felt for them
, while Doyle could only see the person they were at that exact moment in time. He didn't have to wonder if Bernadette might have changed if she had lived, if time would have worn her down to a lesser state of unconditional love. He knew it would never have happened."
What a perfect tribute for a mother -- something to aspire to for me. I too often see people, and my life, as they are at this exact moment in time.
This just happened to coincide with something I've been thinking about a lot lately: intimacy.
I have some friendships where we can go months without speaking to each other, but then when we do, it's as if no time has elapsed at all. But then I have other relationships where the intimacy level just is not sustained. I have found myself thinking, "now that we've experienced such-and-such together, surely our relationship will have moved to a new level". But then subsequent interactions will prove me wrong, leaving me perplexed.
What makes the difference? Is it the degree to which we share ourselves with each other? A level of commitment? The amount of time invested in the relationship? Or am I lacking some fundamental ability to sustain intimacy with others? I'm still in a state of confusion over this issue, but if I could
hold on to every bit of love I'd ever felt for someone
, I'm sure it would really help.